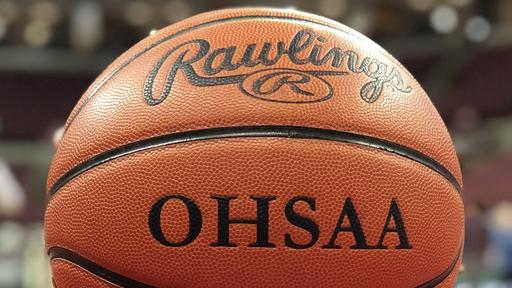 As the 2020-21 high school basketball season kicks off, the Knights men's basketball team will open their season against the International Sports Academy (ISA) this Friday night.
The Knight's are coming off a 14-11 season, after being bounced from the playoffs by rival Walsh Jesuit for the second straight year. The 2019-20 season featured victories against a talented Lake Catholic, Buchtel, VASJ, Walsh, Jackson and WRA and a hard fought 44-41 playoff win against Ellet.
Located in Willoughby, International Sports Academy at Andrews Osborne Academy is a sports prep school with a powerhouse basketball pedigree. This year, ISA's talented lineup features crafty scorer Noa Gustafson, two-way threat Anthony Smaldor and gritty scorer Isaiah Noch.
Gustafson and Smaldore look to be main contributors on offense, as they both averaged 14 in previous seasons. The senior duo will meet their match against the well-balanced Hoban lineup.
Even in the midst of a tumultuous preseason, the Knights are prepared to contend with any team and are grateful to start.
"I'm extremely hyped to get started," said senior captain Thomas Crowe. "This season was very much up in the air as to whether we'd actually play or not, so to be able to open up this weekend is a great feeling."
Crowe, a senior forward for the Knights, provides an intimidating defensive presence as well as with great ball movement on offense. Replacing Hoban graduate Dominick Moegerle's spot, Crowe's role for Knights has been elevated and coach T.K. Griffith expects him to only get better.
Along with Crowe, senior captain Isaiah Young will remain a staple to Hoban's offense. The playmaking guard hopes to continue his crafty play and clever ball movement that he brought last season. Young was able to work on his defense in the offseason and he will hold down the backcourt for the Knights.
"I'm very excited, I get to finally play my last first high school game!" said Young, as he prepares for opening night. "Being a team captain, I have taken on the responsibility of bringing the team together. The Holy Cross Core Value we are learning this year is family. So anyone who watches us will see a strong Hoban culture that is driven by a family atmosphere."
As a leader in both the classroom and court, Young looks to help new players grow and veteran players emerge.
Young and Crowe will receive help from the young talents of Logan Volwes, an outstanding sharpshooter, elusive guard Jonas Nichols, and "Mr. Fundamentals" Andrew Hardman.
Facing a strong team on day one, the Knights look to set the tempo from the opening tip.
Don't have a ticket? No problem! You can watch the Knights begin their championship run here.