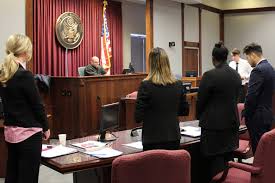 It's pretty difficult to break a team's spirit who has been going to states since the 1990s. Even 2020, a year already plagued by disappointments, will not be able to crush this juggernaut. 
With three winning teams, an incredible work ethic and extreme dedication, mock trial plans for yet another successful season, even though circumstances may be altered. 
"I believe that the Hoban Mock Trial teams are going to be very strong this year. Our attorneys and witnesses–especially our seniors–are very persuasive and intelligent," said sophomore Colin Doss, a powerful attorney set for one of our varsity teams this year. "I believe that our teams will succeed this year with our powerful chemistry and strong work ethic." 
This year's case focuses on a convicted murderer, Micah Oppessa, decides to change their plea to "innocent" while in the midst of serving their sentence.
The evidence sits in an incredibly gray area, forcing the defense to work perhaps even harder than they usually do. 
But that isn't really a concern for the team as its members have a history of hard work, commitment and passion. 
Seniors Aaron Bielecki, Sam Fess, Maia Ferry, Alaina Lah, Luke Monteleone, Isabella Spina and Rebecca Vober have nearly all won "best attorney" or "best witness" awards for their work. Last year their teams won first, second, and third in the district and regional competitions. The blue and gold varsity teams were even meant to go to states — which were unfortunately cancelled due to the pandemic. 
Unfortunately, this year's circumstances have created a lot of differences in this year's competition. 
In fact, both district and regional competitions are spaced out between a few days and are completely virtual — a stark contrast from being in court all together–which will most definitely make engagement, chemistry and communication far more difficult. 
"I think that it will be a difficult adjustment but I am grateful for anything that allows us to compete," senior Rebecca Vober said.
 Alaina Lah shared similar sentiments, stating that although she believes that "we are going to win states," the setup is difficult as a large part of the trial is the in-person presentation. "Playing off the energy in the room and thinking on your feet based off of what the other team gives you," Lah says, "is essential in order to win the hearts and minds of the judges."
All seniors are hoping that the state competition will be an in-person sendoff to remember. 
But considering all of their toil, the team seems to be destined for greatness either way. It's just the matter of how they get there that's up for discussion.