Bishop Lennon, bishop of the Cleveland Diocese for 10 years, dies at 72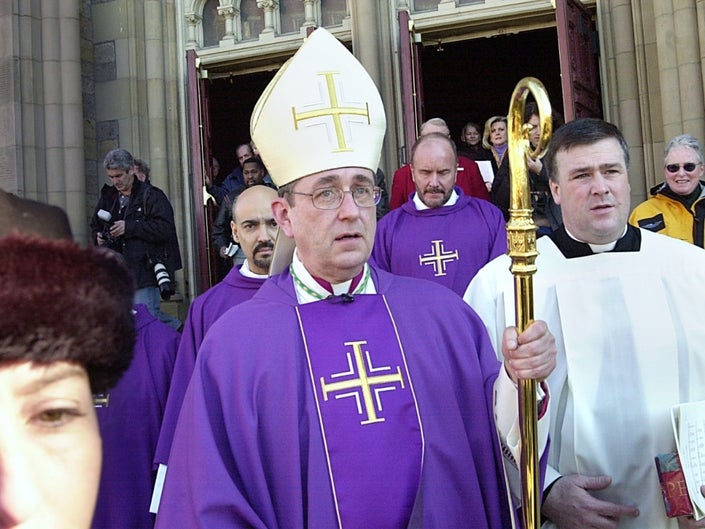 The most reverend Bishop Richard Lennon Emeritus died in the early hours of Tuesday, Oct. 29 at the age of 72. He was the bishop of the Diocese of Cleveland for a decade. In 2016, he resigned due to failing health. 
Born on March 26, 1947, Lennon spent his childhood in Arlington, Massachusetts. His father served as deputy fire chief and sent his children to Catholic school at St. James, where Lennon served as an altar boy. 
He went on to study at Boston College and entered St. John's Seminary. In May of 1973, he was ordained a priest of the Diocese of Boston. Between 1973 and 2001, he served as a parish priest, a fire department chaplain, an assistant of canonical affairs, a rector at St. John's Seminary and a monsignor. 
On Sept. 14, 2001, he was ordained auxiliary bishop of Boston and served there until 2006. He led Boston amid trying times for the Church, specifically during a sex abuse scandal that caused the archbishop of Boston to resign from his office. Lennon filled his role and served as the archbishop of Boston from December of 2002 to July of 2003. 
After he was sent to Cleveland in 2006, Lennon adopted the task of visiting all parishes and schools in the diocese. He instituted internal audits at many of these institutions and established norms for the teaching of catechesis in diocesan schools. 
He is remembered for his great success in organizing the "Rooted in Hope" campaign, which was responsible for raising $170 million in donations to aid parishes, schools, clergy retirement funds and evangelization efforts. 
He also stopped the practice of charging a $450 fine to those seeking marriage annulments, just two years before Pope Francis urged all dioceses in the country to put a stop to this practice. 
However, his reign as bishop brought with it a myriad of hardship. Under recommendation, he worked to close about 50 parishes in order to establish 17 combined, stronger parishes. He was met with much opposition, controversy and even death threats. Still, he never wavered from his duty. 
Bishop Lennon resigned in December of 2016 after citing poor health. According to a statement by the diocese, Lennon suffered from vascular dementia.
As the diocese mourns the loss of a great leader, they remember a man who was filled with the spirit of obedience and dedication. 
"In his service to the diocese, Bishop Lennon showed a deep dedication to the faithful governance of the diocese and a tremendous love of the Church and the people he shepherded," Bishop Lennon's successor Bishop Nelson Perez said in a statement to the diocese. "May the Lord grant him eternal rest." 
Bishop Lennon's funeral was held on Tuesday, Nov. 5 at the Cathedral of St. John in Cleveland.