Boys Volleyball looks ahead to another state tournament appearance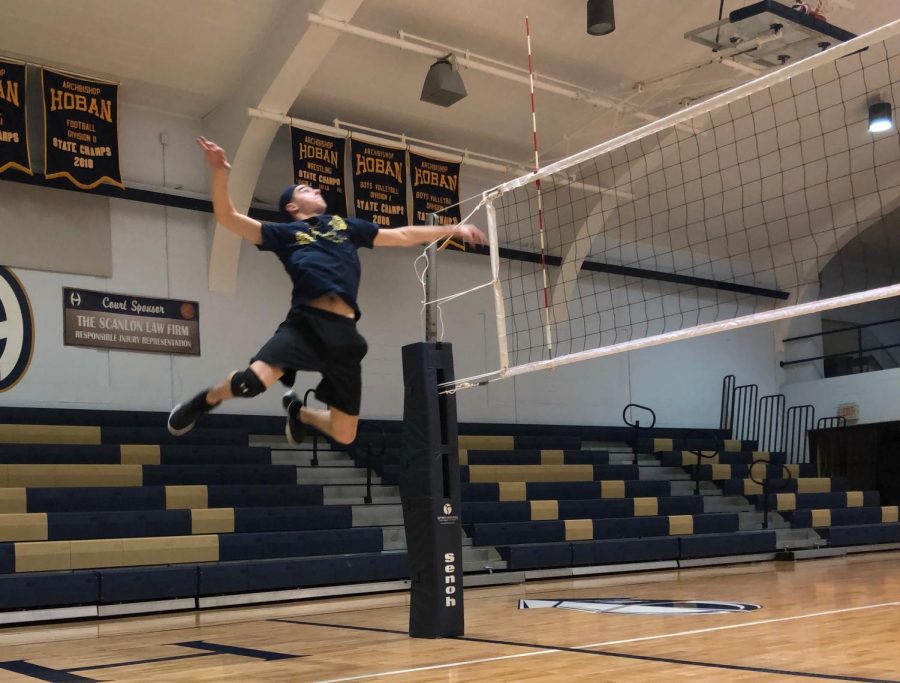 In just their first week of practices, the boys volleyball team members have one goal in mind: the state tournament late this spring. With just 21 matches separating them from the elimination rounds, they've already begun putting in the work with tunnel vision.
"Even though we are a newer team, we have some truly talented players in the junior and senior classes," junior Tommy Bee said. "With the help of Coach Leyden and the senior captains, we're looking to states with a win in mind."
Last season, the boys made it all the way to the state semi-finals, where they lost to Archbishop Alter, the highest-ranked team in Division II, in three sets (17-25, 13-25, 20-25). With a winning record of 12-8, they were seeded fourth in the Division II season polls, just behind Archbishop Alter, St. Charles and Bishop Fenwick. They placed second in the North Region, with St. Ignatius clinching the top spot.
Having lost great talent in 2018 Hoban graduates Jeremy Leyden, Eddie Strah, Tom Galvin, Kyle Hrabusa, Mike Davies and Jack Bahmer, the boys program will need hard work, drive and passionate leadership to make another run for states. Luckily, 2019 senior captains Kyle Kubus, Ryan Henry, Josh Jones and Johnny Lawrence are up to the challenge.
"Ever since I was in sixth grade, I've wanted to play volleyball under the Hoban name, and now I am pushing the team to go back to states for the third time in three years," senior Kyle Kubus said.
"This season should be a blast, finally having the chance to lead the team with my best friends," senior Ryan Henry added. "We are working hard every day to make it back to states for the third year, hopefully reaching our goal and winning the title."
With just four seniors, the 2019 team is one of the youngest Leyden has coached on the boys side of the game, but this year's juniors have faith in their steady improvement and team unity.
"We're a relatively new team, and with many of us starting in the last few years, it's amazing to see how far we've come and how much we've accomplished," junior Daniel Bordenkircher said. "We plan on having a lot of wins this year, and [Coach Leyden] has already been putting us to work to make sure of it."
In his fourth season as head coach of boys volleyball, Coach Jeremy Leyden knows from experience the challenges his players will face this season, and finds it best to prepare early for the trials ahead.
"We are hungry for a trip to states—it's a hard road, but if we put in the work, we have a real chance," Coach Leyden said. "As these new players develop, we should have more and more success on the court, [and] I am very excited to see how far we can go this year."
On this path to Hoban's first boys volleyball state championship since 2010, the team will stop at nothing to take the gold. With talent, hard work and an all-or-nothing mentality, the sky's the limit, and they plan to Take Flight.