Girls volleyball team wins Division I district championship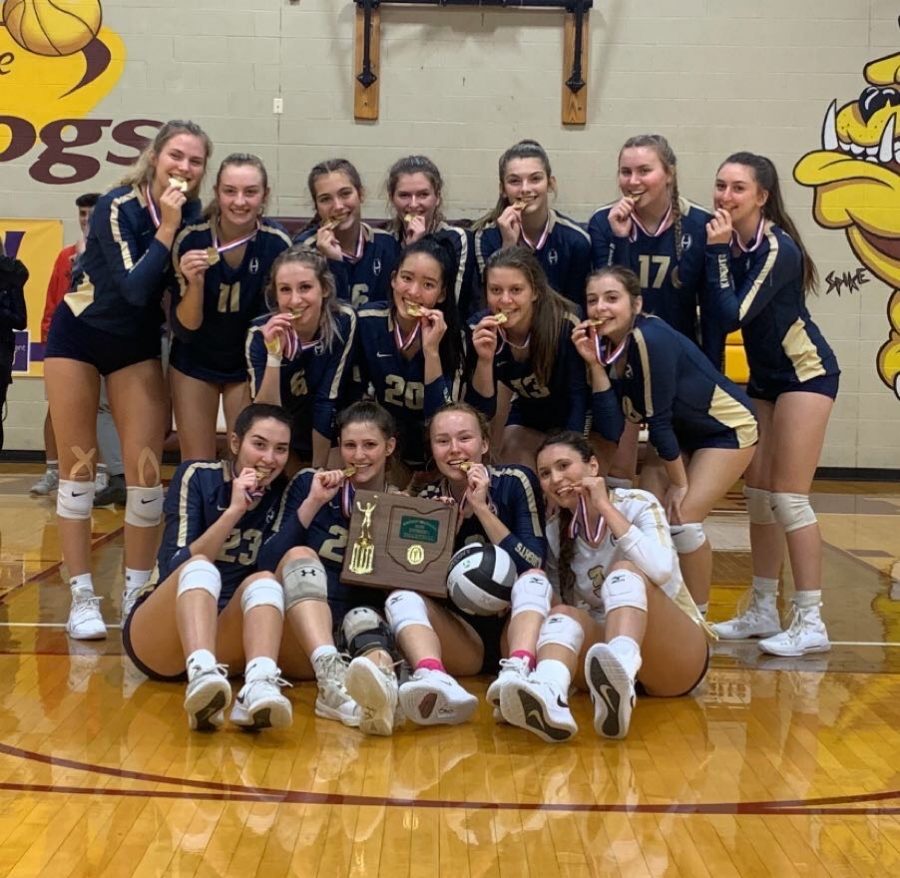 A strong frontline and formidable backcourt led the girls volleyball team to triumph over the Hudson Explorers in the Division I district championship on Oct. 26 at Stow High School on Saturday. With their 3-1 set victory, the Knights brought their program its first district championship victory in five years.
"We were really able to come together that night and give it everything we had," said senior Jacquie Roberts, who racked up six kills and a demoralizing seven blocks in the district finals. "Being the underdog was actually a great feeling, because the chance to prove people wrong motivated our success."
The victory was indeed a bracket-buster, as the top-seeded Explorers eliminated Hoban from sectional play just last year. With this memory burned in the minds of many returning varsity players, rivalry was a primary motivator in their championship victory.
"Anyone in the gym could see how much we wanted to win after being eliminated from the playoffs by them last season," said junior Kara Zaucha, who led the team in kills with 12. "Beating Hudson was a very memorable moment for the program."
Though competitive spirit likewise fueled the Explorers, the Knights boasted the added advantage of powerful senior leadership in Jacquie Roberts, Maddie Wentz, Liv Hopkins and Molly Strah. 
"As the four seniors, we pushed everybody very hard," Wentz said. "We really wanted this win."
Roberts, Wentz and Hopkins combined for 19 kills and 15 blocks, strongly contrasting Hudson's shockingly low kill rate of 4.4. Strah finished with 28 digs, exceeding her season average.
Hoban's seniors had no shortage of assistance from the junior class, as kill leader Zaucha and power hitters Michaella Cloonan and Stephanie Conley figured prominently on the front lines. Defensive specialist Ally Swiatkowski and serving specialist Sophia Grdina also supported Strah in the backcourt. The setters for the Knights, junior Sarah Leyden (23 assists) and sophomore Ellie Hardman, successfully ran the offense, allowing for Hoban's domination at the net.
By fostering a family atmosphere within their program, the players were able to combine their unique strengths in pursuit of a win. Many of the girls speak very highly of the team's commitment to fraternity.
"In between sets of the Hudson match, we held hands and squeezed them tight to remind each other why we play," Zaucha said. "This team is the true definition of family and togetherness."
"[Throughout the match], we kept saying we wouldn't let them tear our family apart," Conley added.