Hoban bowls their way to conference championship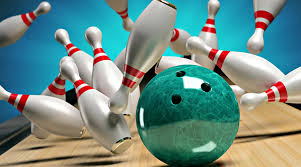 Hoban girls basketball stole the spotlight this year, as they made it all the way to the state final four. However, some sports that remained in the shadows also found great success in 2021, namely the Hoban boys bowling team.
      When I talked to the team at the beginning of the season, it was clear that they had one goal in mind: winning the conference championship. At the time this seemed like a lofty goal, especially with the pandemic throwing several obstacles in their way. However, they overcame these challenges and won the conference championship with an impressive record of 11-4. 
      "It was truly incredible to finally win the conference championship," said senior captain Evan Rowan. "It was a great way to end my high school career."
      In the conference tournament, key bowlers included senior captains Rowan and Luke Monteleone, seniors Mason Pavelsack and Hayden Mickel and junior Joe Bee. They were all pivotal in leading the team to new heights.  
      Unfortunately, the boys' bowling team lost after the conference tournament in the sectional round of the playoffs. They placed sixth out of 17 teams in sectionals, which was a commendable result, but not good enough to advance to the next round.
      Like when any season comes to a close, the seniors are bittersweet, as they're satisfied with the results but sad that it's coming to an end. The younger bowlers will also miss the leadership provided by some of the teams' older players. 
      "I think the part I will miss the most is the practices where we all got together and were able to have a little fun," said Rowan. "Hoban bowling wasn't only about improving, it was about forming meaningful relationships with my teammates that will go beyond bowling."
      "I'll miss the team environment and days on the lanes with the boys," said Monteleone. "Thank you Coach Denny for four years of great memories and timeless jokes."
      The young players will certainly miss the presence of these two captains but look toward the future of the team. Several talented players will return for next season and Hoban bowling hopes to grow and trend upward.
      "The team is in great hands," said Rowan. "There are a lot of talented players who will definitely play well and elevate Hoban's program."
      Hoban bowling reached their goals and then some in 2021 and with the help of their coaching staff and promising bowlers they will certainly be able to continue their success for years to come.