How the Try Guys are restoring MY faith in the Internet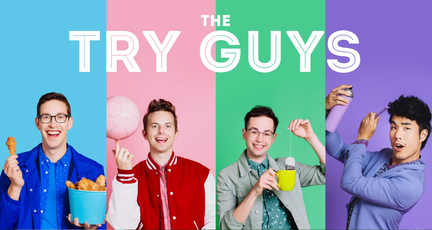 Hang on for a minute...we're trying to find some more stories you might like.
To close VidCon 2018, a comedy troupe called The Try Guys performed a 20-minute skit entitled "75 Things That Will Restore Your Faith In The Internet." The guys paid homage to many famous memes and viral sensations, including Crying Michael Jordan, screaming goats, and ASMR. I always considered their list unfinished, though. They never mentioned themselves.
Keith Habersberger, Ned Fulmer, Zach Kornfeld and Eugene Lee Yang created The Try Guys while they were working in the production department at Buzzfeed circa 2014. As much as they deserve a poetic backstory, they seem to take an odd sense of pride in the fact that "it really came down to who was willing to show their butts on camera."
Their first video involved trying on Victoria's Secret underwear. I'm sure you can imagine why their coworkers were hesitant.
Each video they released involved trying something they'd never done before and talking about the experience. Their content ranges from ballet dancing to baking bread without recipes to going bald for a day. Whether they're trying on costumes, taste-testing food or becoming drag queens, they approach every challenge with enthusiasm  with totally unmitigated fear and the knowledge that Eugene would win, even if there was nothing to win. He's just that good.
The show took off almost immediately, and the guys wrote, directed, starred in and produced a total of eight full seasons of The Try Guys series with Buzzfeed (they're up to three seasons with their current production company). Their "funny-with-a-message" mix of social commentary and humorous scenarios endeared them to worldwide audiences, and they began to develop their uniques personas.
Keith Habersberger, the self-proclaimed best, is a tall, lovable idiot with a big mouth (both literally and figuratively). Keith has a very colorful personality; he plays the french horn, admittedly spent much of his youth in white t-shirts with black neckties and oversized jeans, and stars in a musical comedy band called Lewberger with some friends from college. Favorite things include fried chicken, his wife, Becky, and, of course, Keith. He literally says Keith instead of Cheese when smiling for pictures.
Ned Fulmer, the married one, is a Yale graduate and proud Jacksonville native whose "favorite color is red because it rhymes with Ned." He's been married to Ariel Fulmer since 2012, and the two welcomed their son, Wesley, into the world this past year. Easily the dad of the group, Ned is known for telling dad jokes, always getting hurt, and saying "my wife" in Every. Single. Video. I've always related to Ned because he's very competitive and happily takes on more responsibility than he can handle (and also because, now that he has a kid, he sleeps about as much as I do).
Zach Kornfeld, the adorable one, is all cat stickers and graphic tees as far as the eye can see. Though he does not hold fast to each and every custom, he proudly represents the Jewish faith (fun fact: he chose the Hebrew name Rakdan, which means "dancer"—he cannot dance). He was diagnosed with ankylosing spondylitis in late 2017, an autoimmune disease which made him feel like an old man trapped in a pre-teen's body. Furthermore, though he has always been known as the perpetually single Try Guy, he recently announced that he's been dating the "smart, sweet, and weird as h*ll" Maggie Bustamonte FOR TWO YEARS WITHOUT TELLING US. Can't say I'm not still mad.
Eugene Lee Yang, the final and most famous of the Try Guys, fits into many boxes but defies each one. One could call him a bad boy, an LGBTQ advocate, that guy who's good at everything. He's a fantastic dancer (maybe that's the inspiration behind Zach's Hebrew name?), trained in martial arts, an expert in androgynous fashion, and an alcohol connoisseur. A very dark personality, he makes known his deep disdain for intimacy, and notoriously chooses dogs over babies and people in general. He has a very admirable ability to analyze how and why he is the way he is, but that quality is usually overshadowed by the fact that he absolutely dominates in every Try Guys challenge and upsets the other guys.
(Side bar: That was all from memory. I need to get out more.)
Not only do the Try Guys have some of the most infectious and attractive personalities I've ever come across, but they lead very inspiring lives. This past year, they left Buzzfeed to pursue a solo venture, gaining all the rights to the Try Guys brand, and they also have a book coming out this summer called The Hidden Power of F**king Up. Throughout this process, Ned had his son and built a new house with his wife, Eugene starred in a movie and worked with The Trevor Project, and the four of them built a company from the ground up.
The new Try Guys channel has amassed over five million followers since its launch last year. They've released plenty of new and exciting videos, including some of my personal favorites: The Try Guys Try Not To Laugh Challenge, The Try Guys Get Makeovers From Little Girls, and The Try Guys Compete in a Pro Gaming Tournament.
(If my opinion means anything to you, I recommend watching The Try Guys Drunk Fast Food Taste Test, The Try Guys Play Rocket League, The Try Guys Try The Weirdest Beauty Trends Of 2016, and the Trump Grill Taste Test from their time at Buzzfeed).
(Also, this is still all from memory. Yeesh.)
As they stressed in their VidCon special, the Internet is losing to a culture of hate. Negativity and hostility spread like wildfire these days. That's why I so admire the Try Guys. Every video, no matter how absolutely stupid its content, ends with some sort of reflection or positive message. They strive to build people upーespecially minoritiesーinstead of knocking them down. They restore my faith in the Internet with their charisma and humor, and I hope they can have the same effect on you.
Just beware the puns. They always come when you least expect them.