The Amber Guyger Trial shows human compassion in the courtroom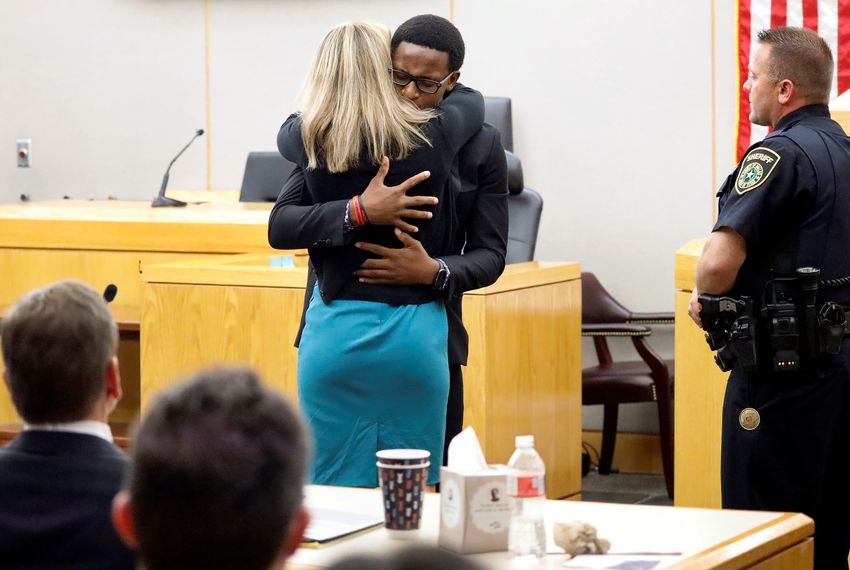 Former Dallas Police Officer Amanda Guyger has been sentenced to ten years in prison after being charged with the murder of Botham Jean, her African American neighbor, who she fatally shot on Sept. 6, 2018. 
Jean was watching television when Guyger came into his apartment and opened fire, leaving him with two bullet wounds. He was 26 years old. 
Guyger claimed self-defense, but was nevertheless charged with manslaughter and indicted of murder by grand jury. 
When the guilty verdict came on Tuesday, Oct.1, Jean's family and several activists who had been following the case declared it a "huge victory" for every black person in America. 
Prosecutors showed the court several 2018 text messages from Guyger where she ridiculed black culture and admitted to being a racist. All evidence served incriminating in last week's proceedings. 
However, it isn't the shocking truth of the case or the precedent it set that has captured national attention, but a heartbreaking speech by Jean's teenaged brother and the actions of the judge. 
Brandt Jean, 18, addressed Guyger in the courtroom with a message of compassion and forgiveness. 
"I love you just like anyone else," Brandt told her. "I wasn't going to say this in front of my family or anyone, but I don't even want you to go to jail. I want the best for you because that's exactly what Botham would want you to do. And that is to give your life to Christ." 
Brandt concluded his speech by begging the judge, Tammy Kemp, for permission to embrace Guyger. Kemp agreed after a long hesitation and the two shared a long, tearful hug, shocking the Dallas court. 
After the sentencing had concluded, Kemp also embraced Guyger and gave her a Bible, saying: "You can have mine. I have three or four at home." 
Kemp reportedly consoled Guyger by reading John 3:16: "For God so loved the world that he gave his only son. That whoever believes in him shall not perish, but have eternal life." 
Although this appeared as a simple human display of compassion, Kemp is already under fire for her actions. 
The Freedom of Religion Foundation filed a complaint against Kemp, saying that her actions had "overstepped judicial authority," and were "inappropriate and unconstitutional." 
However, the First Liberty Institute opposed the FFRF and supported Kemp in their statement, saying "FFRF is protesting Judge Kemp rather than joining the rest of the nation celebrating the compassion and mercy Judge Kemp demonstrated. We should all be thankful the law allows Judge Kemp's actions and we stand with her and will gladly lead the charge in defending her noble and legal actions."