The history of the Walsh v. Hoban Mum Day game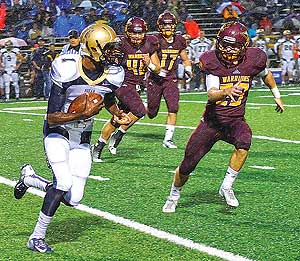 Hang on for a minute...we're trying to find some more stories you might like.
Mum day is one of the most important days at Hoban, as we prepare to take on our rival high school, St. Vincent-St. Mary (STVM), in football. While Mum Day as we know it has been unfailing for many years, there was an interruption in the sacred tradition after the game on Nov. 11, 1977, which led to a temporary cancellation of the series.
Since both sides tell different stories as to why the playing stopped, a mystery was left to be solved another time. Despite this brief hiatus, the Mum Day tradition continued, soon becoming a match-up between Hoban and their secondary rival, the Walsh Jesuit Warriors.
The rivalry between Walsh and Hoban stems from long before this Mum Day switch, however. Hoban, STVM and Walsh are all within 10 miles of each other, which created a tense atmosphere between the schools– all compete to convince grade school students from all around Northeast Ohio to choose their learning facility and athletic programs over the others.
Many of the students that rep their high school's logo on a polo shirt grew up playing with and against each other in grade school. These students split up after grade school, taking the path that their family wanted for them, or choosing the best school for them and their future. One thing is certain: when these players line up against their former teammates and rivals wearing opposing colors, it is certain that the game will be played with heart.
This is how the Hoban versus Walsh rivalry came about; when STVM stopped playing us in '78, it only made sense to begin playing Walsh. Even though the abrupt switch was strange at first, with each new incoming class, students grew to know only this version of "Mum Day." The Walsh Mum Day soon grew to be as important and intense as the STVM game. However, according to the Hoban Athletic Director at the time, Don Schubert, while it felt the same, it took around a year before it reached the same stature.
From 1978 to 1996, Hoban clashed against Walsh in the big game and Mum Day remained the classic, silent spirit day on steroids that we all know it to be. While the school day went amazing as always, the actual game tended to suffer a different fate.
During that time frame, Hoban only won a total of five games and lost 14, five of which we didn't score once. Even through those tough times, however, students still kept their school spirit and Mum Day never lacked.
Some Hoban alumni have such fond memories of these games, that they still consider the "real" Mum Day game to be against Walsh up to this day.
"For me, Mum Day will always be the Walsh game," said T. Kirk Griffith, AP English teacher, head boys' basketball coach and class of 89' Hoban alumnus.
While Hoban might not have won many games against Walsh in the past, the Knights have dominated the Warriors swiftly in the past four years, and hope to continue this trend in the future.