Varsity girls basketball dominates STVM 64-38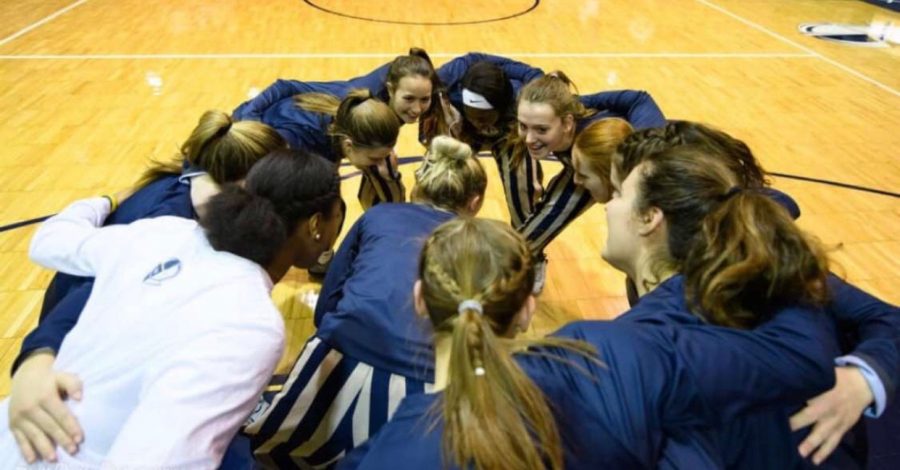 Shooting 53% in the paint and 50% from three-point range, the varsity girls basketball team secured a comfortable 64-38 victory over the St. Vincent-St. Mary Irish on Wednesday, Feb. 5 at The University of Akron's JAR Arena. Senior tri-captains Jacquie Roberts, Hannah Schill and Tanayja Gooden-Wesley figured prominently in the win, combining for 57 points.
"The atmosphere was great," Gooden-Wesley said. "The student section showed up and provided lots of energy, which contributed to the win."
This was indeed an exciting game to watch. The Knights kept the Irish scoreless for much of the first quarter, establishing a momentum that lasted throughout the game. Whereas last year's Holy War matchup at the JAR culminated in a 41-40 nailbiter, Hoban dominated this year's game from start to finish.
"The biggest thing that's changed [since last year] is definitely our experience level," Roberts said. "We went from a team made up of juniors and seniors who had played with each other for the past three years to a team made up of mostly sophomores and freshmen. The younger girls' work ethic, paired with our three seniors' leadership, has come together so well to create a great team."
"I think that our team chemistry is very good this year compared to years past," Schill added. "We are best friends on and off the court—we even play tag during the school day. I think that being best friends off the court allows us to play every second for each other."
Not many were surprised by the team's impressive showing against STVM. The Knights are now 16-4 on the season and, in defeating Notre Dame-Cathedral Latin on Saturday, Feb. 1, they clinched the North Coast League Blue Division championship. 
Tri-captain Roberts figured prominently in this victory, accumulating 16 points and 17 rebounds. The sister duo of Hannah and Gracie Schill combined for 23, and freshman Kennedy Arison scored 10.
"People don't always recognize the work every member of this team puts in day in and day out from October to March," Roberts said. "Our team usually spends anywhere from 12 to 15 hour days at Hoban between lifting in the weight room, practicing in the gym and getting treatment in the trainers' on top of being hardworking students."
Even with so many important victories already under their belts, this team keeps grinding, now looks forward to the district and regional championships. Many players credit their amazing coaches, trainers and weight staff for aiding their successes thus far, and will surely value their expertise all the more as playoff season approaches.