Letter to the Hoban Family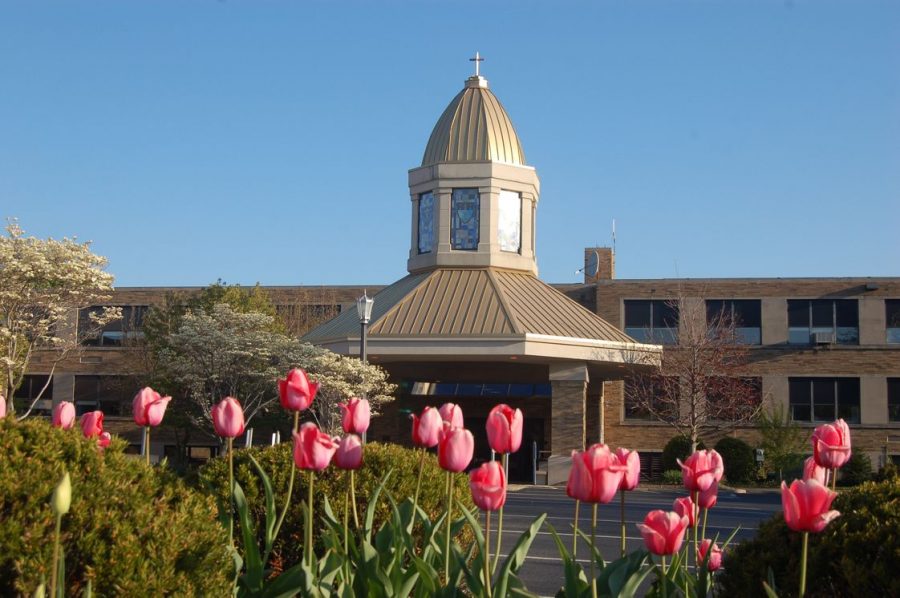 I hope this letter finds the students and teachers of the Hoban family safe and healthy during this challenging year. It seems like just yesterday I was sitting in the exact same seat you are in this moment. I clearly remember sitting in Mr. T.K Griffith's English class reading the latest version of the Visor written by my fellow peers. I remember Mr. Anderson dressing up as famous historical figures for his history lessons. I remember the post lunch coma after that giant piece of stromboli and delicious mushy cookies. Most importantly, I carry with me daily all of the Holy Cross values and life lessons that the Hoban family taught me during my memorable four years.
      My name is Elisa DiMeo and I am a graduate of the class of 2013. During my time at Hoban, I was on the Varsity tennis team for four years, ran track, served on Student Council, and was the 2013 Homecoming Queen. I was also a participant and a leader of the Kairos retreats and was Eucharistic Minister during the school masses. I always knew that Hoban was a special place with kind-hearted people. When I was an eighth grader discerning my high school options, I felt a certain peace about Hoban the minute I walked through the double doors underneath the gold dome. That feeling never left me throughout my four years.  Students were always smiling in the hallway, teachers were willing to do anything in their power to help me succeed academically, and I was spiritually fed through daily masses and retreats offered throughout the year. Although I always knew that Hoban was a special place, a place where I would always feel "at home," I did not realize the extent of this feeling until recently.
      This past July, I was diagnosed with breast cancer.  Yes, you read that correctly.  The last few months have been full of uncertainty and a multitude of emotions however, I wanted to share one of the key life lessons with you all that I have learned on this journey. Even though I graduated seven years ago, the Hoban family NEVER waivers in their support. To be honest, the majority of the people who have reached out to check on me, sent cards, and most importantly been praying for me, have been from the Hoban family. It has not been limited to my graduating class either. Don't get me wrong, I love the peers I graduated with (shout out to the class of 2013), but individuals from other graduating classes have also reached out in addition to teachers. In addition to the gift of the Hoban family, I definitely would not have the positive, faithful outlook on my diagnosis that I do if it weren't for the opportunity to learn more about my faith during my time at Hoban. The religion classes, retreats, and service opportunities that Hoban offers provided me with a well-rooted faith and love of Jesus Christ that has been fundamental in my journey.  The Brothers of Holy Cross teach how education is about two principles: wholeness and relationships. Now that I am in my adult years and have had time to reflect on this concept, I have realized that some of the most fruitful friendships and relationships I have in my life are those that belong to the Hoban family. Although it may feel like you are just going through the motions of high school right now, especially during this challenging year, I encourage all of you to look around and reflect on the students and teachers that surround you daily. Have you formed a group of friends or made a friend that will continue to support you in the years after Hoban? Have you taken the extra five minutes after class to actually form a relationship with your favorite teacher or teachers? Have you reflected on what the Holy Cross values actually mean to you and how you will live as a reflection of those values outside the walls of Hoban? Most importantly, have you thanked the people/support system in your life that has made it possible for you to attend one of the best Catholic schools in the area?  Speaking of that, I owe my parents the biggest thank you in the world for making my Hoban experience possible through their own personal sacrifices.
      Hoban is a very special place. Though it is challenging for other people in my life to understand the importance of Mum Day or the rollercoaster cheer, I am confident that my four years at Hoban paved the groundwork for my faith and moral compass, but also my recovery from breast cancer.  Although succeeding academically is important, I want to reaffirm to all of the students reading this letter that the life lessons you learn from your journey at Hoban serve you so much benefit in your adult years.  The Holy Cross values such as excellence, discipline, family, and integrity (just to name a few) will not only impact your personal life but also benefit you in your professional career. Once you are part of the Hoban family, the relationships that you chose to form stick with you forever. Which if you ask me, is certainly the zenith of the journey (Mr. Griffith, that vocabulary word was for you).  
Sending well wishes and virtual hugs,
Elisa DiMeo
Class of 2013