Ten Hoban Quirks Only Noticed by Seniors
When senior year rolls around, Hoban starts to feel like a second home. Here are some specific quirks that only a senior would notice.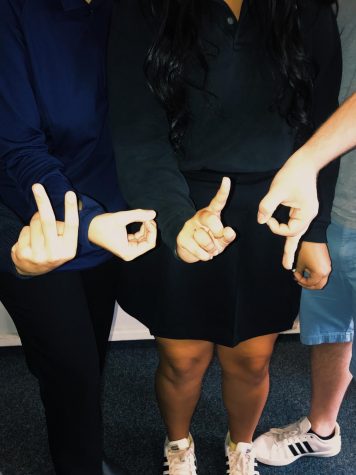 1. None of the paper towel dispensers on the first floor work
Let's be real here—none of the paper towel dispensers work, period. But the ones on the first floor have a proclivity for being out of order. And no matter how many times you're left high and dry, you always forget how dysfunctional it is. Who knows, maybe that's a college only perk!
2. Some water fountains are definitely better than others
Forget the one by Mr. Griffith's room— we all know the fountain by Mr. Walker's room reigns supreme. The Fitness Center fountain gives it a run for it's money, but nothing can beat the cool, crisp water across from Mr. Walker. Let's not even talk about the one by the Innovation Center, or the two by Alumni Gym.
3. Mrs. Agnoni is everyone's at-school mom
Sweet, kind, thoughtful— just a few words to describe Mrs. Agnoni. The Central Office secretary has been an integral part of the Hoban family and is always there with a smiling face and helping hand. By creating relationships with the students, she's becoming the "mom" of Hoban and I can safely say that without her, these past four years would've been rough.
4. The original weight room
Once upon a time, what is now Ms. Andriano's room, used to be Winkler and Taggart's weight room. The tiny workout space produced two recent state championship teams (football and girls soccer) and served as a stepping stone into more strength and conditioning opportunities. And yes, you could probably fit ten of those rooms into our current Fitness Center. The good ole room was small but mighty!
5. Which summer reading books were actually good
We can all appreciate these summer reading choices, but some books were harder to read than others (Grapes of Wrath, Outliers, How to Read Literature like a Professor— need I say much more?). Personally, Wuthering Heights, On Writing and As I Lay Dying were my top picks and fellow senior Cole Sukys adored The Curious Incident of the Dog in the Night-Time. Visor staff reporter John Lauterjung, however, does not recommend Chronicle of the Death Foretold.
6. Feeling like the freshman get smaller every year
Okay, class of 2019, we definitely weren't this small, right? While some of us are still at a solid 5 feet 4 and 1/2 inches (me), most upperclassmen tower over the younger kids. With every new year, it seems like the newest class gets tinier and tinier. The seniors in 2016 didn't feel like this about us, did they?
7. Mrs. Sees is everyone's big sister
When Mrs. Sees joined the Hoban staff in 2016, she added a certain sunshine to our hallways. The Hoban alumna is never not smiling and has been a shoulder to cry on for many students. Her relatable and charming personality helps her connect with the students and appears as a big sister to many (her ever-flowing candy jar may also have something to do with it!).
8. Wilson as a puppy (and Gifford)
I think it's safe to say that we all remember the day we met Wilson— sophomore year after an all school mass, Brother Bob held a miniscule, black puppy in his arms. With the heartbreaking death of Gifford (RIP forever, buddy), we were all thrilled when Brother Bob introduced us to his new little guy. We've watched him grow into the good boy he is today, but we'll always remember his rambunctious puppy phase.
9. That weird feeling of being the oldest students in school
Do you miss Debo or Jenna Otterman yet? Yeah, me too. Being the oldest kids in the school certainly takes some getting used to. If you're anything like me, you sometimes still feel like a freshman, looking to others to lead and guide you. Well, not anymore, friends. As the oldest in the building, it's our turn to help shape the school and make 2019 a memorable year for all.
10. Realizing your face will be on the walls in a year
The realization that you'll be joining the ranks of esteemed alumni Robert Yanko and TK Griffith is shocking. In a year or so, our senior portraits will be hung by Mr. Bonnette's room and our Hoban legacy will be set. No more stars, no more summer reading books, no more AP tests. It's almost over, guys. Weird, isn't it?
Leave a Comment