A breakdown of the political situation in South America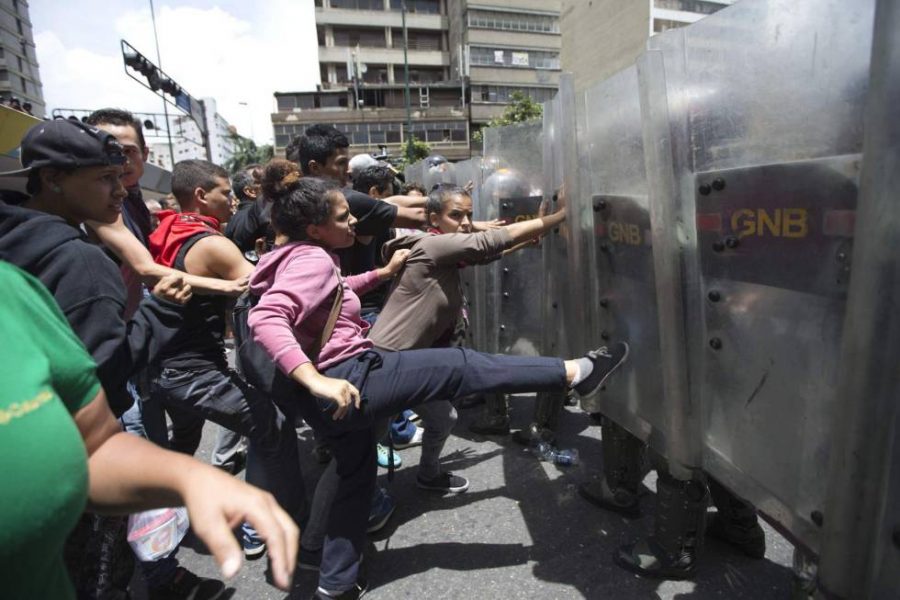 Venezuela
Venezuelen politician Nicolás Maduro Moros assumed the presidency in 2013. Just a year later, a series of political demonstrations and protests broke out in response to poor living standards and shortages in the country. The shortages themselves had roots in the policies of Maduro's predecessor, but worsened under Maduro's leadership.
As the protests intensified, Maduro began exiling and imprisoning dissenters, sometimes even resorting to lethal force. Official steps were taken in 2015 and 2016 to try and force him out of office, but he was able to preserve his station under protection of the Supreme Tribunal, the National Electoral Council and the military.
In 2017, the Constituent Assembly of Venezuela was elected after Maduro called for the national constitution to be rewritten. Most of the assembly's members were open supporters of Maduro, leading many to believe underhanded voting tactics were used to elect them.
The 2018 Venezuelen presidential election, riddled with corruption, was called early for Maduro. Voters were indirectly threatened to vote Maduro or risk losing their jobs and social security, and many leaders of the opposing political parties were jailed or exiled throughout the race. Much of the Western world refused to accept the election's results.
Maduro's administration exacerbated the Venezuelen refugee crisis, the largest recorded refugee crisis in the Americas to date. More than 4 million Venezuelens have fled the humanitarian crisis in their home country. Just as well, more than 9,000 were executed for resisting authority.
On Jan. 10, 2019, Maduro was sworn in for his second term. 13 days later, politician Juan Gerardo Guaidó Márquez and the National Assembly declared Guaidó the acting president of Venezuela, an act of rebellion which received recognition and acceptance by almost 60 countries. This challenge to Maduro's presidency ignited the 2019 Venezuelen presidential crisis which still continues today.
Peru
Martín Alberto Vizcarra Cornejo, current president of Peru, was sworn into office in March 2018. On Sept. 30, 2019, in defiance toward perceived corruption in the legislative branch, he dissolved the Peruvian Congress, asserting that new legislative elections would be held in January 2020. Congress attempted to retaliate by declaring Vizcarra's presidency suspended and appointing Vice President Mercedes Aráozas interim president, but these actions were widely considered null and void. One day later, on Oct. 1, Aráoz resigned.
According to The Guardian, "The last straw…was Congress' appointment…of a new member to the top court, the constitutional tribunal, which would be the likely referee in a legal dispute between Congress and the government. Proposed nominees for up to six of the tribunal's seven members had drawn fire for links to criminally suspect judges."
Representatives of Vizcarra's opposition branded him a dictator, but protestors took to the streets in support of the Congress' dissolution. According to opinion polls, most Peruvians side with Vizcarra in the controversy.
Despite this grave political situation, the primary issues in Peru at the moment involve environmental concerns, namely water pollution, deforestation, air pollution and soil erosion. Mining, oil extraction, natural gas production and illegal logging have greatly exacerbated these concerns, and only recently has the Peruvian government began taking action.
Nicaragua
Protests began in April 2018 when José Daniel Ortega Saavedra, president of Nicaragua since 2007, announced social security reforms that would increase taxes and decrease benefits. The reforms were ultimately cancelled after five days of violent rioting during which 30 people were killed, but opposition persisted.
The anti-Ortega protests demanding his resignation mark the deadliest civil conflict since the Nicaraguan Revolution of the 1960s and 70s, and have grown into one of the largest political demonstrations during Ortega's administration.
Ortega's government has been undermining and dismantling checks to presidential authority since he took office; power is now so concentrated in the executive office that Ortega can commit violent crimes against those who oppose him without fearing consequences.
According to a report by the Human Rights Watch, "government forces were responsible for most of the 324 people killed as of September 2018, a figure that included 23 children, and for most of the over 2,000 injured. Some killings constituted extrajudicial executions. Public hospitals under the purview of the Ministry of Health denied or obstructed medical care for wounded protesters."
This crackdown on dissent heavily involved the National Police, who protestors affirm have resorted to torture methods of beatings, waterboardings, electric shocks and rape. Many police officers were killed in response to this injustice, though violence was not a coordinated effort.
Human rights defenders who attempt to intervene are increasingly surveilled, harassed or threatened, and many peace organizations that speak out against Nicaraguan political corruption are defamed as "coup-plotters." Journalists and bloggers who report on the protests are likewise threatened by the government, and incidences have been recorded in which news offices were raided by the National Police.
Chile
In early October, an increase in the Santiago Metro's subway fare, the rising cost of living, privatization and the general inequality prevalent in the country led the Chilean people to revolt against their unjust government. Unrest began in the capital, Santiago, where secondary school students organized a fare evasion campaign to protest the increasing subway fares. Through open confrontations with the police and growing dissatisfaction, the situation escalated wildly. As of present, 81 metro stations have been severely damaged and vandalized; 17 have burned to the ground.
Miguel Juan Sebastián Piñera Echenique, president of Chile since 2018, declared a state of emergency, and authorized the Chilean Army to prevent destruction of government property and enforce order both in the capital and beyond. A curfew was also established in the Greater Santiago Area.
More than 1 million Chilean protestors participated in a political demonstration on Oct. 25, 2019, demanding Piñera's resignation. The capital was brought to a standstill as the protestors swarmed the streets, banging pots, singing and chanting. According to a Tweet in the protest's aftermath, Piñera received the message.
"The massive, joyful and peaceful march today, where Chileans ask for a more just and supportive Chile, opens great paths for the future and hope," Piñera tweeted. "We have all heard the message. We have all changed. With unity and help from God, we will walk the path to a Chile that's better for everyone."
Three days after the mass protest, Piñera made crucial changes to eight ministries of his cabinet in response to unrest. Later, in November, a majority in the Chilean National Congress signed an agreement to hold a constitutional plebiscite in order to ask Chilean citizens if they'd support the creation of a new constitution.  
Bolivia
As the 2019 presidential elections rolled around this past October, many Bolivians appeared not to support the incumbent Evo Morales. Through changes to the constitution and refusal to honor a 2016 referendum limiting his time in office, Morales had managed to keep his presidential standing since 2005. His constituents appeared greatly aggravated by the length of his presidency, especially since he ignored their vote to prevent him from running for a third term. Just as well, many blamed his support of "controlled burning" to clear farmland for the widespread wildfires in the country, and resented his failure to maintain a prosperous economy.
Election day fell on Oct. 20 and, with 80% of the votes counted, Morales had accumulated 45%. His primary challenger, Carlos Mesa Gisbert, garnered 38%. Bolivian law holds that, to win, Morales needed either over 50% of the vote or over 40% with at least a 10% advantage over the other candidates. Thus, the nation prepared for a runoff election, as it seemed impossible that he'd meet these requirements.
However, 24 hours after the early results were released, it was announced that Morales achieved the 10% advantage and won the election. Fraud accusations erupted instantly, and Morales' opponents began rioting and setting fire to election-related buildings. The country was sent into a violent frenzy of strikes and protests.
In response to a call from the Organization of American States for the election to be annulled, Morales promised to hold a second election. General Williams Kaliman, commander-in-chief of the Bolivian armed forces, deemed this insufficient. He ordered Morales to resign, which he did the very next day.
Supporters of the ousted president have since led violent campaigns against Bolivian security forces. Though most newspaper and blog reports on the violence have been suppressed, at least 31 have been reported dead as a result of clashes between civilians and armed forces.