Ginny and Georgia: Gen-Z's Gilmore Girls?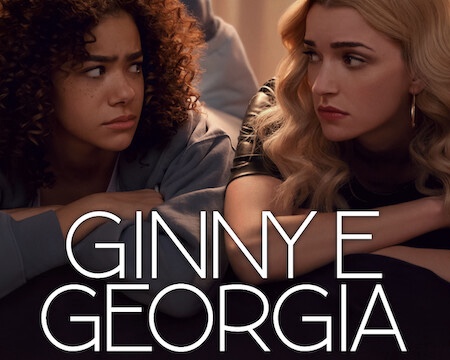 Just under a year ago, the Netflix teen drama, "Ginny & Georgia," was released. This "Gilmore Girls"esque series captivated viewers, earning rave reviews while generating over 953 million viewers in just its first week on screen. Season one brought drama, love, and of course, cliffhangers. It comes as no surprise that the announcement of season two had fans on the edge of their seats until its release on Jan. 5, 2023. 
Season one is meant to supposedly encapsulate the teenage experience. The opening depicts our two protagonists, Ginny Miller (Antonia Gentry) and her mother Georgia Miller (Brianne Howey), arriving at their new home in Wellsbury, Massachusetts. In this heavily affluent town, the two leading ladies face new boys, new rules, and especially new enemies.
Excluding the grim undertones encased in the duel-storyline flashbacks, the first season is considerably comical and an overall fun watch. Especially in the infamous "It's Friday! Happy Friday! Good morning Ginny welcome to Friday" scene. Between lighthearted tap-dances and Britney Spears Halloween costumes, I would have never assumed that season two would bring a much more sinister plot line. 
Viewing the first few episodes felt like watching an entirely different show, every time I believed it could not get any darker, it did. With copious mentions of murder, self-harm, abuse, and eating disorders, the show portrayed a different, much more tragic illustration of the previously mentioned teenage lifestyle. 
This is not necessarily a bad thing, the show prides itself on being realistic to the feelings of teens. In all honesty, I believe it did a great job in communicating the issues today's youth faces in this modern world. The portrayal of parental relationships, mental health struggles, and conflicts within friendships was very reminiscent of the true high school experience. Many tears were shed as I watched this devastating plot line unfold. 
On the other hand, there were moments where I questioned the writer's ideals of teenagers today, some scenes seemed unrealistic, and it felt as if the writers were grasping at straws as a means of implementing teen slang and interests. Sure, social media is a constant in our lives, but does anyone really still say "YOLO"? 
The duel-storyline continues on into season two, but now giving a more graphic depiction of Georgia's past. Characters whom I loved in season one turned into the ones I most despised, and vice versa. The series did an immaculate job pulling at the heart-strings of the viewers, and appealed to a much larger audience than expected. 
The finale left viewers on yet another cliff-hanger, as previously done in season one, but this time it seems much more dire. Another season of this show is on track to premiere in the coming years. I, for one, cannot wait to see where the characters will end up next.