Just keep swimming
Hoban swim team takes on sectionals on Feb. 8 at 11 a.m.
Today, at 11:00 a.m. in the University of Akron Ocasek Natatorium (ONAT), Hoban's swim team will compete in sectionals, an event that often last over six hours.
Both boys' and girls' teams have been working relentlessly. From 5 a.m. practices to additional after-school practices to weekend-long meets in Columbus, the swim team has been working tirelessly. This intimidating schedule would steer most high school students to pursue any other extracurricular, but Hoban swimmers hold their breath and dive right into it. They really are another type of breed—a determined and disciplined species.
"I just want to give my final testament to the Hoban community of the hard work I've put into swimming," Visor's own Justin Icsman said. "I mean, I've been doing this over the past 13 years of my life. It's time for the preparation and long hours to pay off."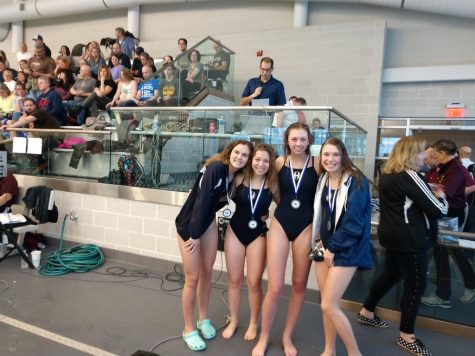 And the long hours have proven to create stellar performances from both teams.
Taking large strides in 2019, both t

eams finished as runner-ups in the North Coast League (NCL). Outstanding performances from the boys include senior Michael Heller, who recently commited to John Carroll University and became the NCL champion for the 50-yard free. Icsman earned silver for the 200 IM and another silver for the 500-yard relay team of Icsman, sophomore Luke Minick, sophomore Sam Kurtz and Heller.
The girls have also outshone opponents through sophomore Grace Wyszynski's third place victory in the 50-yard free. The 200-yard free relay team of Wyszynski, freshmen Natalie Cook, junior Megan Zaucha and senior Melanie Will recently took second and Zaucha earned two silvers in the 200 and 500-yard free.
Although the boys certainly have young talent emerging, the girls' team, with only five experienced seniors, rely on youth to beat the clock.
"This year, the underclassmen have really stepped up," senior Will said. "They've really shown talent and contributed to the team's success."
Last night, before the big show, all swimmers gathered for a team meal at Tallmadge's Danny Boys to prepare for their upcoming sectional battle. "It's a very nerve-wracking thing, but everyone is mostly excited," senior captain Abby Adaway said. "The team meal really brought out the family atmosphere and tomorrow is honestly the best meet ever. People accomplish their goals, there's good tears and everyone's cheering. It's great."
So, while the Knight community endures a long day at school, the Hoban swim team will take on sectionals with the focused mentality and ambitious heart they have displayed their entire season.