From library to Innovation Center
Only a few remember the Hoban library. The last leg of students–juniors and seniors– who do recall Mrs. Tina Braman and the bookshelves reminisce about after-school hangouts or study hall shenanigans. While some students said goodbye to the Hoban library without a second thought, others were upset about the controversial upgrade–especially when science-wing students had to reroute their hallway navigation (cough, cough Lily Zaucha).
But, three years later, students now understand and appreciate the hard work behind the transformation. The McCool Entrepreneurial and Leadership Studies Center along with the neighboring Makerspace provides endless opportunities to students that not only expand their academic minds, but also hone their creativity and leadership qualities. Both classrooms allow students to utilize a plethora of tools: 3D-printing machines, engineering wiring cables and measurement pads, whiteboard-topped cabinets, technologically-advanced smartboards and more.
Additionally, college-level classes enjoy the progressive and efficient atmosphere. From pre-engineering to print-making, Latin to AP Physics, each course shares in the same sensation upon entering the wing: a fresh and exhilarating air that motivates both student and staff to excel.  
Ambitious students like senior PJ Hirsch have fully taken advantage of the Innovation Center, specifically in the 3D print-making realm.
"The Innovation Center really has provided me with college-like experiences and opportunities that have advanced my future career in engineering," Hirsch said. "I particularly love using the 3D printers and, having learned how to digitally design the printing models, it allows me to make almost anything I can imagine."
Even the teachers value the center as an essential stepping stone toward college preparation and gush about their new classroom.
"One reason why I love teaching in the Makerspace is the kids' priceless reactions," physics and pre-engineering teacher Greg Pero said. "Smiles immediately light up their faces after they use the 3D print-making or laser-cut machines."
Yet, the Hoban community would not have access to such rewarding facilities if it weren't for notable alumni. Showcasing Knight-like generosity, business pioneers like '77 alum Jim McCool donated the resources to remodel the library into the state-of-art Innovation wing.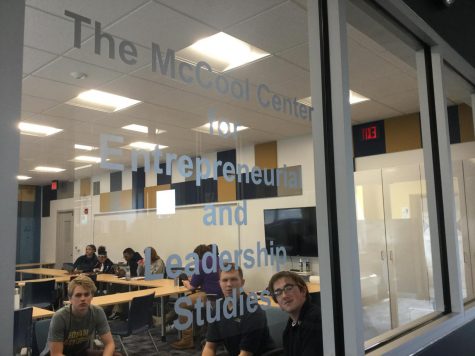 In fact, last Tuesday, April 2, the McCool Entrepreneurial and Leadership Studies Center was properly dedicated and introduced. Business men and women gathered for hors d'oeuvres and adult beverages at 6:30 p.m. and tuned in as several speakers announced the entrepreneurship program.
Built primarily with the support from McCool, the McCool Entrepreneurial and Leadership Studies Center strives to educate students about the leadership and entrepreneurial side to the business world. McCool spoke at the dedication and shared his hopes for the current Hoban students as well.
"My hope is for students to encounter multiple experiential learning opportunities where they may learn and refine the skills necessary for one to be a successful leader and entrepreneur," McCool said. "Such skills, combined with a desire to serve others, should instill within students the competence to see and courage to act."
The director and teacher of Entrepreneurial and Leadership Development, Jason Dzik, also highlighted the optimistic expectations of the program.
"When it comes to the skills necessary to compete and thrive in the 21st-century workplace, few are as valuable as leadership, communication and the innovative problem-solving," Dzik said. "The McCool Center stresses the learning and application of these skills in the classroom and through an array of experiential learning opportunities."
With half a semester already under their belt, students have caught a glimpse at what both McCool and Dzik preached. Out of 65 students currently enrolled in the second-semester course, many have already transcended the classroom lessons.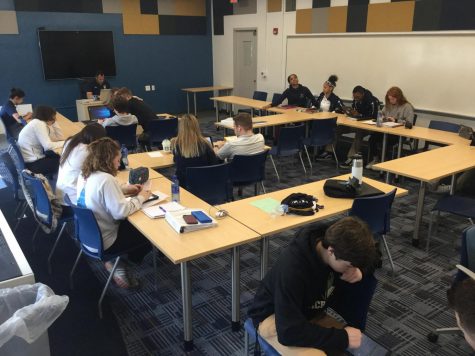 For example, a week-long project required students to identify a problem within Hoban and find a tangible solution. Students pitched multi-purposed water bottles to interactive magazines, coffee stations to solar-fueled chargers attached to the desks.
"I'm so glad that I took this class," junior Cameron Mizer said. "I knew it was a class I just had to take, had to get my hands on. From the first day, I noticed that it was a different class, something that is not offered at a lot of other schools."
As the night drew to an end on April 2, one aspect was clearly stated with confidence and certainty: Hoban's Innovation wing with the McCool Entrepreneurial and Leadership Studies Center is a true blessing and gift.
Not only does it offer opportunities that will better prepare them for future schooling, it also equips students with the ability to emerge as more capable leaders–the epitome of Archbishop Hoban.