Hoban girls volleyball advances to Division 1 district finals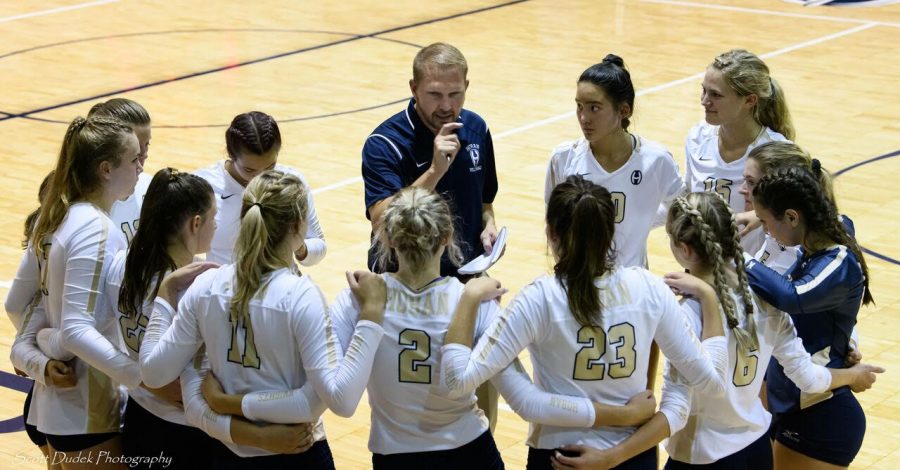 Fresh off a demoralizing sweep of the Walsh Jesuit Warriors, Hoban's girls volleyball team will advance to the Division 1 district finals. 
Second-seeded Hoban (18-6) won by scores of 25-11, 27-25 and 25-19 in their district semifinal match against the Warriors (5-18) on Oct. 22. Having lost to Walsh earlier in the season, the varsity squad was hungry for vengeance when they stepped on the court, a passion clearly shown in the match's final scores.
"It was a very emotional game for us," starting junior Sarah Leyden said. "We worked hard throughout practices and came mentally prepared for the game. We left it all on the court, and we hope to continue that passion onto playing Hudson on Saturday."
The first-seeded Hudson Explorers (18-6) will indeed prove formidable opponents in the upcoming district finals on Oct. 26. Despite losing starting junior Morgan Gaeta to injury in the first play of their district semifinal match against Green, the Explorers still emerged victorious after a high-energy, four-set nailbiter of a match.
Just as in the semifinal round, rivalry will fuel the Knights in this upcoming battle. After all, no returning varsity player on Hoban's roster can forget that, this time last year, the Explorers defeated the Knights in elimination play. 
"Losing to Hudson last year was devastating," junior starter Kara Zaucha said. "Throughout the week, we have been using that as motivation to better what our side of the net can control."
Zaucha led Hoban in kills in the semifinals with 11, and is expected to bring the same heat on Saturday. Having sustained a head injury early in last year's playoff match against Hudson, she will finally get the chance to prove her skills against some of the district's strongest blockers.
Despite the mounting pressure, the team remains composed, rooted in the knowledge that success will come if they give their all and play for each other.
"We are playing for each other this year and it is really showing," senior team co-captain Maddie Wentz said. "I'm so proud of my team for working so hard this whole season and accomplishing all that we have."
"The team's primary focus right now is being a family," Zaucha added. "Every point is fought for the people standing next to us. This has been a key philosophy for the team, and has helped us become more united throughout the season."
Seniors Maddie Wentz, Jacquie Roberts, Molly Strah and Olivia Hopkins are hungry for that district champion title, determined to leave the Hoban volleyball program with a lasting legacy. They'll find strong support in key power hitters, notably Kara Zaucha, Michaella Cloonan and Stephanie Conley. Solid blocking and consistent hitting will be essential to a triumph over the Explorers.
Hudson has powerful attackers of their own, notably junior Brooke Ramlow, who had 18 assists, 12 digs, six kills, four blocks and three aces against Green in the semifinals, and sophomore Allyson Yanak, who finished with 12 kills and four blocks. Notorious middle blocker Page Gross will also prove to be a threat, having racked up eight blocks and six kills last game.
The strength of Hudson's front row can only be challenged by a strong backcourt; senior libero Molly Strah is up to the challenge, supported by defensive specialist Ally Swiatkowski and serving specialist Sophia Grdina. Off digs from these talented athletes, setters Sarah Leyden and Ellie Hardman will run the offense.
With ferocity, passion and a family-oriented mindset, the Knights approach the Division 1 district finals. The match will take place at Stow-Munroe Falls High School this Saturday, Oct. 26 at 4:00 PM.