The old and new blend together for the Cleveland Cavaliers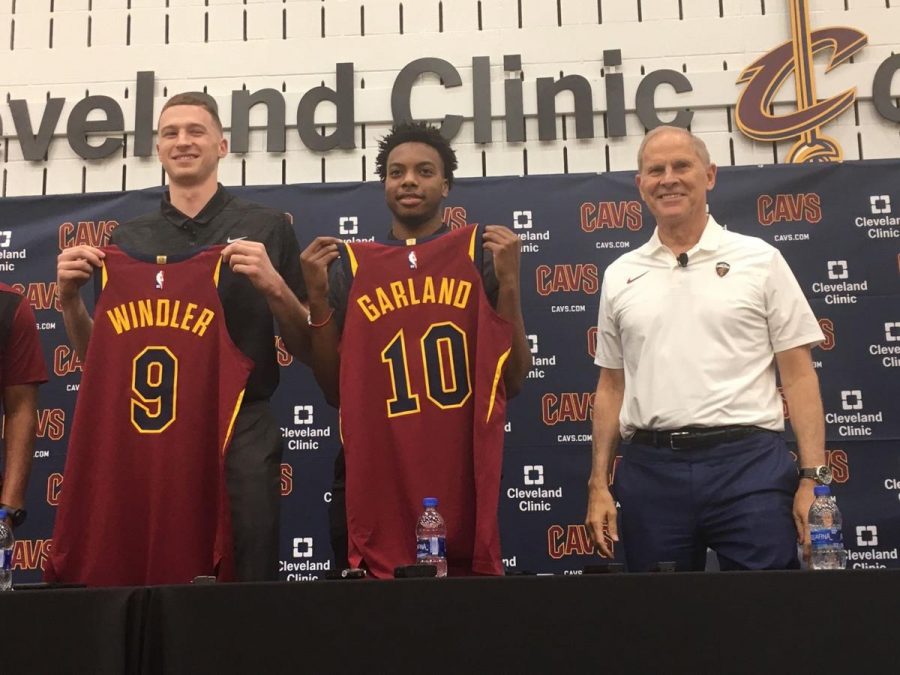 It feels like yesterday that the infamous words echoed from the heart of Cleveland: "It's over! Cleveland is a city of champions once again!"
Ah, the good old days.
The LeBron James era is over for the second and perhaps final time. The King has now teamed up with Anthony Davis in a Lakers uniform. From cheering on a championship squad to begrudgingly supporting a lottery team, it's been a rough few years for Cavalier fans.
The post-LeBron era started last season with a 19-63 campaign. Supporters were disappointed, but not surprised. No more stand and deliver. No more triple-doubles from the King. Cleveland had to move on after getting their hearts broken a second time.
LeBron was not the only Cavalier fans had to say goodbye to. The head coaching stints of Tyronn Lue and Larry Drew's seemed to end before they began. Shooting guards JR Smith and David Nwaba have also said their goodbyes.
Rebuilding, however, isn't about who's gone, but rather who's here.
Enter John Beilein, former head coach at the University of Michigan and certifiable coaching Iron Man.
Beilein's career highlights include coaching roles at the University of Michigan and West Virginia University, as well as lesser known schools like the University of Richmond, Canisius College, Le Moyne College and Erie Community College. His 829 career wins make him one of six Division I coaches with over 700 wins, and the seventh of 10 coaches to take four different schools to the NCAA tournament.
Unfortunately, though he boasts quite the resume, Beilein has no NBA experience to speak of.
The Cavs brought on Beilein in hopes to expedite the rebuilding process. Needless to say, he is ready for the challenge.
"The wins will take care of themselves," Beilein said on media day Sept. 30th. "If we continue to get better everyday, we are going to have one heck of a year."
The organization is eager for a fresh start with Beilein at the helm.
Rebuilding began last season with the drafting of point guard Collin Sexton. Sexton, ecstatic to team up with James and power forward Kevin Love, quickly learned that their dynamic trio would be James-less.
Sexton proved a solid pick for the Cavs, finishing fifth in the Rookie of the Year selection process and earning a spot on the all-rookie second team. He finished his rookie season with an impressive average of 16.7 points per game.
Though Sexton imagined joining a 2016 kind of Cavaliers team, the squad went on to have a rather unimpressive season. The only all-star to emerge from the Cavs was Love, who acted as the heart of the team despite fighting injury and only playing a total of 22 games.
After a season like that, Cleveland needed the subsequent offseason to go well. However, with no notable acquisitions from free agency, the Cavs are essentially running with the same squad. With the exceptions of first-round picks Darious Garland and the recently injured Dylan Windler, as well as the late addition of Kevin Porter Jr., the team remains unchanged.
As potentially the steal of the offseason, Porter Jr. was not cheap. Four second-round picks and a lump sum of money were shipped to the Detroit Pistons to make the addition.
Nevertheless, the transaction seems to be paying off. Porter's teammates and coaches have spoken nothing but praises of him, and it seems as if he will be one of the first numbers called off the bench.
"He's got great natural talent, and now we've just got to let him soar with those strengths while we continue to make him a more efficient player," Beilein said.
Former Vanderbilt guard Darius Garland, somewhat of an unknown, also has the tools to create a successful NBA career. With the addition of Garland as Sexton's running mate, the Cavs' backcourt could be formidable in the eastern conference.
"We are trying to build a CJ-Dame situation," Thompson said when asked about his new backcourt, referring to the Portland Trail Blazers' infamous defensive duo of Damian Lillard and CJ McCollum.
Obviously, these are lofty expectations, as Lillard and McCollum are much farther into their NBA careers than Sexton and Garland.
Despite the hype, don't be surprised if Garland has a rocky start. Last season at Vanderbilt, he played only five games, and has missed two days of training camp due to a foot injury.
Some speculate that the Cavs' front office will trade Sexton to balance the addition of Garland. However, his teammates and coaches say he is here to stay.
Familiar faces like Love, Larry Nance Jr., Jordan Clarkson, Tristan Thompson, Cedi Osman and, of course, fan favorite Matthew Dellavedova remain. Love in particular is excited for the addition of Beilein.
"It's just his enthusiasm," Love said. "It's how he talks and how he approaches everyday. I wouldn't say he's a breath of fresh air, because I've played for some great coaches. But he brings a different approach, that old-school mentality. We're not only going to have fundamental basketball with a fun style of play, but also it's gonna be fun to talk shop with him—college basketball, old NBA, ABA, all of it."
It's without question that Beilein is going to be implementing new schemes and tactics, as the Cavs can't simply run all plays through LeBron anymore. He wants to incorporate a back-to-basics style that revolves around discipline and efficiency, utilizing a two-guard offensive system.
How his old school coaching methods will work in the NBA has yet to be determined. However, each program he has coached for has achieved success. In fact, he has a win percentage of 63.7%, and his discipline and efficiency are trademarks.
"Many of the young players have probably been able to get by with talent and still win the game without a lot of discipline," Beilein said. "They don't really know what wins and loses games. [It] takes time…for some more than others to put more importance in those simple things that are really easy to do, but in the middle of action are hard when you are thinking of something else."
Beilein got his first NBA win Saturday night against the Pacers. Hopefully, more will follow.