A community of hope: Akronites rally behind Highland Square coffee shop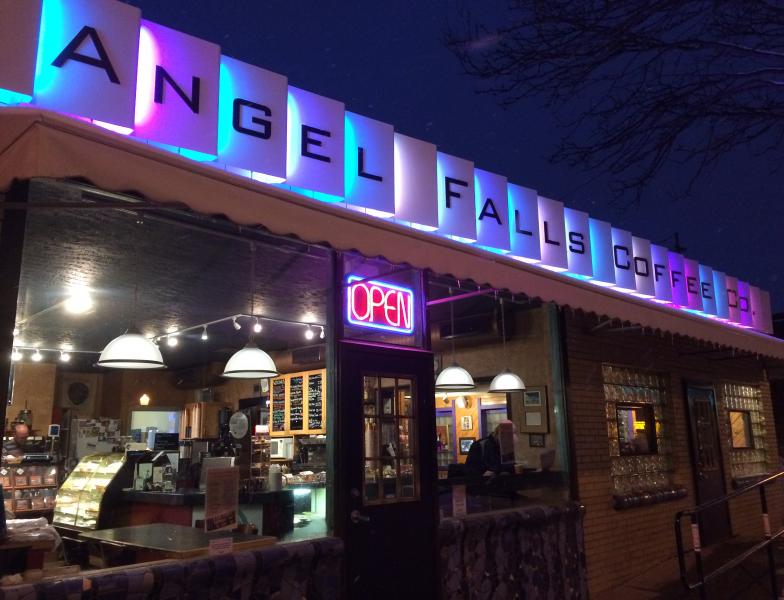 Since the 1990s, Angel Falls Coffee Company in Akron has offered patrons a cozy meeting space and an array of warm drinks to enjoy. Over the years, their comfy chairs have served as the building blocks of a now-thriving neighborhood and a home to thousands of patrons. The popular business expanded its reach to the downtown area, where it provided many First Energy employees their morning cup of joe.
Following Governor Mike Dewine's March 15 announcement, prohibiting restaurants and bars from operating at full capacity, the future of this historic hangout went hazy.
"We are all now living in a coronavirus economy and all of us are going to be facing an uncertain future," owners Rafael Oletta and Jim King announced via FaceBook on March 20.
After extensive discussion, it was decided that, fiscally, the company could not endure long-term closure. Any branch shutdown caused by COVID-19 would be permanent. On March 20, Oletta and King were forced to officially close their downtown location.
This isn't the first time a Highland Square staple has danced with death: the Highland Theater notoriously balanced on the brink of bankruptcy. Just when it seemed as if the doors to the classic one-screen movie theater would close forever, the neighborhood stood firm in their support and saved the business.
Now, the community intends to maintain its track record. Angel Falls Coffee Company means a lot to the small neighborhood, and their members have all voiced their admiration for the cafe.
"I go in when I feel sad or alone," Highland Square resident Willa Moss said. "It's the place that helps me determine the meaning of 'community.'"
Highland Square dwellers like Moss have acted on those sentiments. While the store kept its doors open for take-out, patrons flooded the building. A GoFundMe campaign started by Wes Ayers made the rounds on social media. Donations far surpassed the $8,000 goal, with some patrons contributing sums as large as $600.
Through unwavering support, they've determined the meaning of "community."
On March 23, in compliance with Dewine's "Stay-at-Home" edict, Angel Falls closed their Highland Square branch. Thanks to the contributions from Akronites, however, they plan to reopen in mid-April, with hope of returning to full operations.
"We are grateful for our customers and friends and the continuing support that all of you have given us," Oletta and King posted. "We hope to return the favor in kind. Thank you."
If you wish to contribute to the future of Angel Falls Coffee Company, please visit https://www.gofundme.com/f/save-angel-falls