Beetlejuice: From cult classic to Broadway musical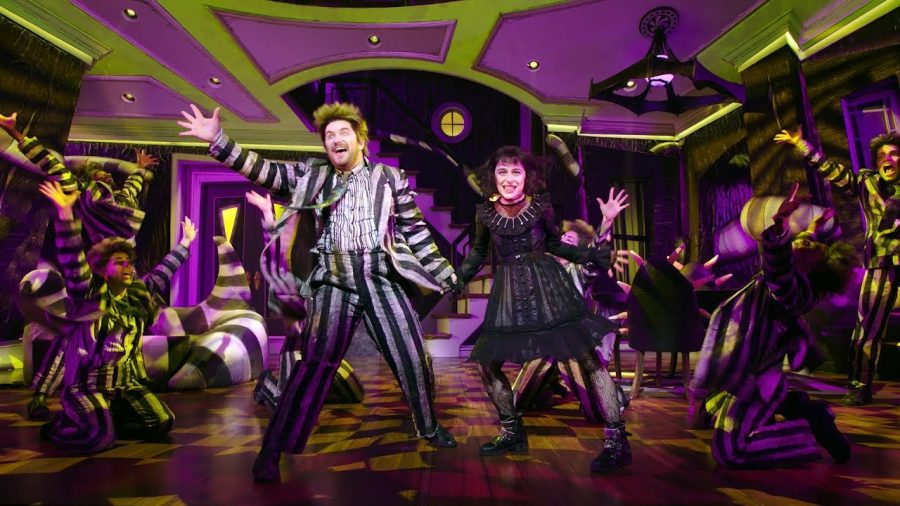 Broadway recently gained a spooktacular addition to its repertoire of fantastic musical theatre.
Anthony King and Scott Brown's "Beetlejuice" premiered in October of 2018 for a brief pre-Broadway run at the National Theatre in Washington D.C. In April, it made its Broadway debut.
The musical is based off the 1988 film of the same name directed by Tim Burton and starring Winona Ryder (Lydia Deetz), Michael Keaton (Betelgeuse) and Alec Baldwin (Adam Maitland). Quickly climbing the charts, it became the 10th highest grossing movie in 1988 and has since become a cherished Halloween cult classic, known for being just the right amounts of creepy and bizarre.
The plot follows a deceased couple, the Maitlands, who haunt the Deetz family, the new residents of their former home. Desperate to get their house back, Adam and Barbara Maitiland make a plan to drive the Deetzes out. They enlist the help of Betelgeuse (pronounced Beetlejuice), a crude and morbid ghost who can be summoned by reciting his name three times.
The Maitilands find themselves befriending Lydia Deetz, the family's lonely teenage daughter, who is able to see the couple. When Adam and Barbara Maitland begin to decay as the result of an accidental exorcism, Betelgeuse tells Lydia he can help on the condition that she marry him, thus securing his ability to permanently wreak havoc on the mortal world. Lydia begrudgingly agrees and releases Betelgeuse from his spectral shackles.
The musical's reception has been similar to that of the film. The New York Times calls it a "jaw-dropping fun house," and a review by Variety dubs it "screamingly good fun."
The musical stars Alex Brightman, best known for his role as Dewey Finn in "School of Rock," as Betelgeuse, and Sophia Ann Caruso, an 18-year-old from Spokane, Washington, who won a Theatre World Award for her performance as Lydia Deetz. Through over 190 performances, it has brought in nearly $24,000,000 in revenue.
The show is similar to the film, but with a few crucial differences for which the playwrights take responsibility.
The show starts after the death of Lydia Deetz's mother, with a slow moving ballad about how Lydia feels invisible in her grief. Suddenly, Betelgeuse pops out from behind a gravestone and famously recites, "A ballad already? And such a bold departure from the original source material!"
Throughout the show, Betelgeuse amuses audiences with his honesty about death, the afterlife and even the show itself. He assures the spectators not to be nervous because he does shows eight times a week, and often reminds audiences that, yes, this is a show about death.
If you find yourself in the mood for a spook this Halloween season, the soundtrack is available for listening on Spotify and ITunes.
Or, if you're feeling really adventurous, you could try saying Betelgeuse's name three times.