Spotify guidebook
Every year, Spotify gifts its listeners with the aptly named Spotify Wrapped– a neat little presentation personalized with a summary of the past year's music statistics. My 2018 Wrapped boasted a well above average 136,365 minutes spent listening to music. That equates to about 2,272.75 total hours, averaging about six and a half hours a day. I think one could say that I am pretty familiar with Spotify, so I'm here to give you my five-step guide to make the most of your Spotify experience.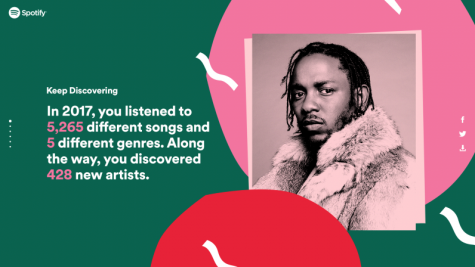 Browse and Discover
The best way to start your search for new music is to go through the browse section. There, Spotify has created playlists of music that's trending today, as well as playlists for certain genres or even moods. When you find one that sparks your interest, give it a listen!
Find Artists
As you listen to the playlists, you're bound to find a song or two that you really vibe with. Don't leave it at just a fun song— go to the artist's page and see what else they have to offer! Start with their popular songs (they're probably popular for a reason), and pretty soon you'll know if it's meant to be.
Artist/Album Radio
Probably my favorite tool for finding new music, artist and album radios give you a specialized playlist of music similar to what you're loving already. It is really perfect for finding your type of sound. I found my personal favorite artist, Felly, on the artist radio for Isaiah Rashad, and in 2018 alone spent 337 hours listening to him. Odds are if you like what the radio is based off of, you'll like the radio. I encourage you to treat the radios like the playlists in steps one and two.
Look Through Similar Artists
Once you have thoroughly enjoyed an artist and have either run out of content or are simply ready to find another, take a peek at their page for a list of similar artists that Spotify has constructed. Eventually, as you keep repeating these steps, you'll end up knowing most artists on the list, but there will always be a few fresh ones that you have yet to check out. Looking through these artists gives you a wider base for your type of sound as you get more and more specific with it.
Build Your Library
Finally, as you listen, be sure to save songs and albums that you really love. Make your own playlists for your individual tastes and moods. The more you listen, the more you'll know your own taste and the easier it will be for both you and Spotify to recognize your next favorite artist.
If you keep repeating these steps, you'll have a library packed with music you love in no time!