The Toledo War: A history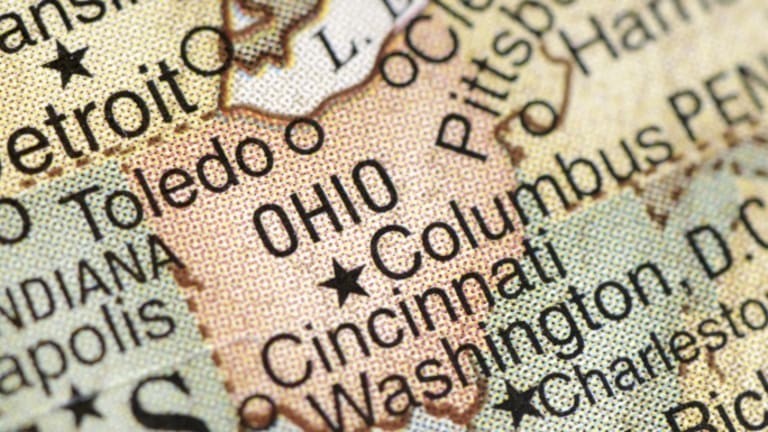 Every November brings the divide of houses and the separation of families, as this month contains an important competition within the greatest North American sports rivalry: the Ohio State-Michigan football game. 
However, this bad blood has roots much deeper than a simple game and is much more complex than citizens realise. It all started in the 18th century.
During 1787, Congress drafted the Northwest Ordinance, which created the Northwest Territory. This area around the Great Lakes would eventually become home to both Michigan and Ohio.
In the Northwest Ordinance, the border of Ohio and Michigan territories would be a line through the southernmost edge of Lake Michigan until that line intersected with Lake Erie. Of course, it would not be that simple. Ohio and Michigan debated over where the border was because of the numerous flaws in surveying technology.
Michigan and Ohio both claimed they had access to the mouth of the Maumee River. The territories hired surveyors and they all had conflicting conclusions. This confusing 468 square mile area was named the "Toledo Strip."
The Toledo Strip was heavily contested because of its importance as a direct access to the Great Lakes. This access would grant valuable trading opportunities. Soon, the growing area had a town: Toledo.
The Ohio and Michigan territories were both in a race to statehood, as the first state would have official control over Toledo. They both raised militias out of fear that growing tensions would result in violence.
On April 9, 1835, a Michigan posse rode into Toledo and arrested several Ohio state officials. The mob also tore down an Ohio flag and set it on fire. 
After this, people from Michigan were dubbed "wolverines" due to their savage behavior. 
On April 26, a Michigan militia, led by General Joseph Brown, led 60 men to intercept the Ohio border survey team. This event resulted in the Wolverines confronting the surveyors, firing warning shots and arresting nine. It was eventually called the "Battle of Phillips Corners."
Fortunately, nobody was injured or killed in this battle. The Toledo War was mostly harmless, resulting in only one injury. 
Then, in July 1835, a Michigan sheriff named Joseph Wood arrived at Toledo to arrest an Ohio partisan nicknamed Two Stickney. A brawl broke out, and Wood had a minor injury after being stabbed with a penknife. Wood was the only person to be injured in the war. 
In response, Michigan Governor Stevens T. Mason ordered 1,000 armed men to march upon Toledo. Upon their arrival, they found no Ohioans present. They thought they were victorious.
But the crafty Ohioans had held a secret court session instead of fighting. On account of his irresponsibility, when Governor Mason got home, he was quickly replaced by a new governor via President Andrew Jackson's command. 
This new governor was sympathetic toward Ohio. He saw them more as an ally than a foe.
Finally, this "war" was over. Michigan was forced to give up the Toledo Strip. However, they gained the Upper Peninsula and statehood for their cooperation. 
Remember the next time Ohio and Michigan compete: their rivalry once almost started a bloody war.