Why We Stay Silent
Mum Day- Hoban's most important day of the year. But… why?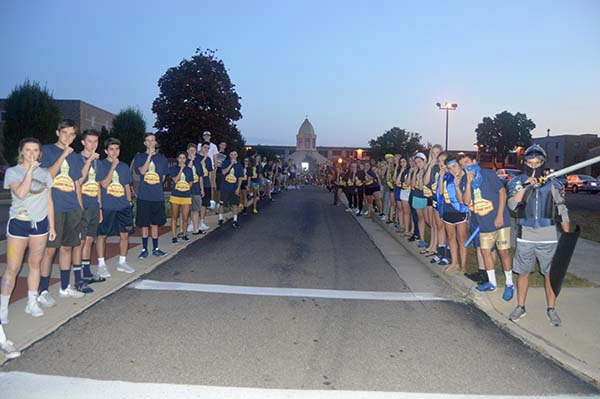 Since 1953, the halls of Archbishop Hoban have been bustling, full of students rushing from class to class and teachers instructing them. Noise can be heard everywhere from 7 a.m. until 4 p.m., with students discussing assignments, athletics or even the latest scandal. The entire school year, Hoban resembles one big stereo, creating educational and social music, so to speak.
Except for one day.
For one day of the 180 school days, the entire family stays silent. On this one day, no gossip or verbal instruction occurs. The stereo is muted, leaving only silence in its wake. On Mum Day, our music is silence.
But why?
Why does an entire school subject itself to silence? Why do teachers ignore their lecturing and join in the quiet? Why do students ignore the natural inclination to speak to one another? Why does administration allow seniors to hang an excessive amount of streamers and posters everywhere?
Because it's more than just silence.
This silence has lasted for 56 years (and counting). This silence has led us to victory versus the Irish 21 times (also still counting)..and don't forget Walsh a few years as well (the 80s). This silence has made a name for itself, engraving itself deeply into the Hoban walls.
"The silence helps promote the tension that explodes at the pep assembly," Robert Yanko, class of 1966, said. "Even back in my day, the silence was the best part of the day."
Our silence even aligns with many of our core values: discipline, family, integrity, inclusiveness and zeal. Our entire family experiences the spectacle of Mum Day, connecting us as one unit. The silent energy felt on this holy day electrifies the school and creates a thrilling vibe with every beat of the drum.
Our silence is our tradition.
This sacred tradition that embodies our school spirit and community dates back to 1962. The sanctity of this day has stood for more than half a century, while its importance remains immeasurable. Each senior class holds the duty of protecting this tradition near to their hearts, the "senior security," if you will. When those same seniors graduate, Mum Day is the one memory each wishes to relive.
"To me, Mum Day was bigger than a pep rally or a rivalry football game," alumna Hannah Finley said. "It was this unbelievable time of spirit and enthusiasm that I had never known was possible before coming to Hoban. I think what I miss most about Mum Day is just the feeling of togetherness and pride for Hoban and for Akron. It still gives me butterflies to think about."
Mum Day is not about the videos, the posters, the decorations or even the drums—it's about something bigger than ourselves. It's about our family joining as one body to prepare for battle, a battle that's so much more than a rivalry game. This day is the culmination of Hoban pride and spirit, the most hallowed custom for the Knights.
So, while all is quiet on 1 Holy Cross Boulevard, remember the significance of Mum Day and those who have paved the way for us. Honor the tradition by keeping it alive—by staying silent.
View Comments (1)